Sustainability is part of our corporate DNA. By this, we mean all actions we take to promote and protect the environmental, social and economic interests of our stakeholders in the long term.
Our guiding principles  
Reduce carbon footprint of real estate
Create the offices of the future
Enable our employees to be at their best
Report 2019/2020
Detailed information on our decarbonization strategy can be found in our current sustainability report.
Low-carbon design principles of alstria
To accelerate the pace of decarbonization, we have set low-carbon design principles. Our low-carbon design principles are the basis of our construction activities toward decarbonizing our portfolio.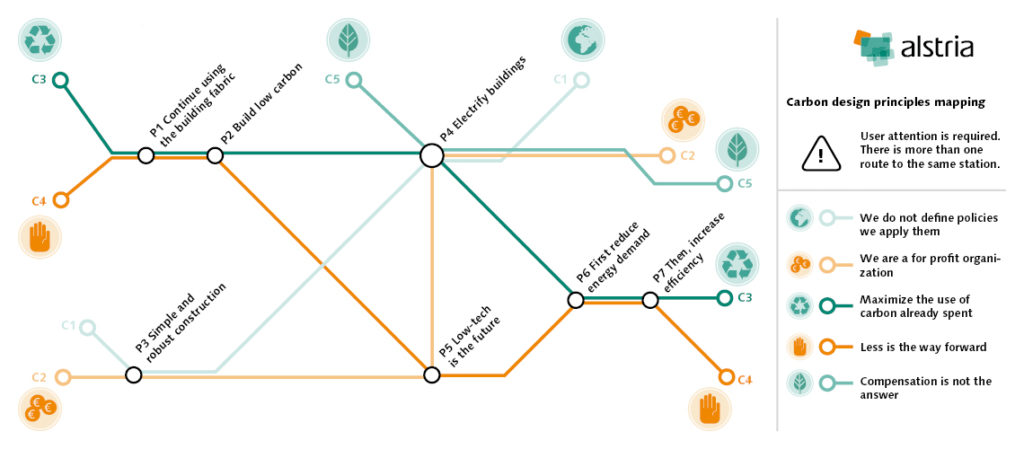 It is our responsibility to reduce the resource consumption of our buildings. We monitor closely energy and water use as well as waste produced across our portfolio. Based on these values, we identify measures to reduce consumption and thus operating costs for our tenants and increase our independency from the energy grid.
We deliver our objectives by setting ambitious targets and constantly monitoring their progress.
Target 1
Procurement of 100% renewable energy for areas within our control by 2020
We intend to power all the common areas of our portfolio and the entire area of our own offices with only renewable energy by2020. This way, we can achieve our goal of cutting the emissions that we can influence to zero.
Target 2
Procurement of 50% renewable energy for tenant areas by 2040
We intend to use 50% renewable energy for the electricity and heating needs of our tenants by 2040.
We participate annually in industry-recognized indices and ratings to track our environmental, social and governance (ESG) performance. Below you will find our results over the past three years. If you are interested in earlier alstria ratings, please contact us personally.
Ratingagentur

Ergebnis

Bericht

S&P Global
CSA
2020 Member of DJSI Europe (67 Points)
2019 59 Points
MSCI
ESG Rating
2020 A
2019 A
2018 A

Bloomberg
Gender-Equality Index
2021 67.62%
2020 63.81%

Sustainalitics
ESG Risk Rating
2020 11.4 Low risk
2019 17.4 Low risk
CDP
Climate Change
2020 B
2019 B
2018 B

ISS-oekom
Corporate Rating
2018 Prime C+
2016 Prime C
GRESB
Public Disclosure
2020 A
2019 A
2018 A

EPRA
European Public Real
Estate Association
2020 sBPR Gold Award
2019 sBPR Gold Award
2018 sBPR Gold Award

Please note that other rating agencies may provide our ESG performance without receiving our feedback. This may lead in representing not the entire picture of our strategy.
Continuous improvement on data quality and transparency have been key developments of our reporting through the years. This is displayed in our annual sustainability report, which provides insight into our strategy, targets, actions and performance.
We offer our tenants and employees alike an attractive framework contract to procure 100% renewable energy and thus help them reduce their carbon footprint. This project received in 2017 the immobilienmanager Award for the category sustainability. We are glad to see since then that other companies have been replicating this approach. The more, the better!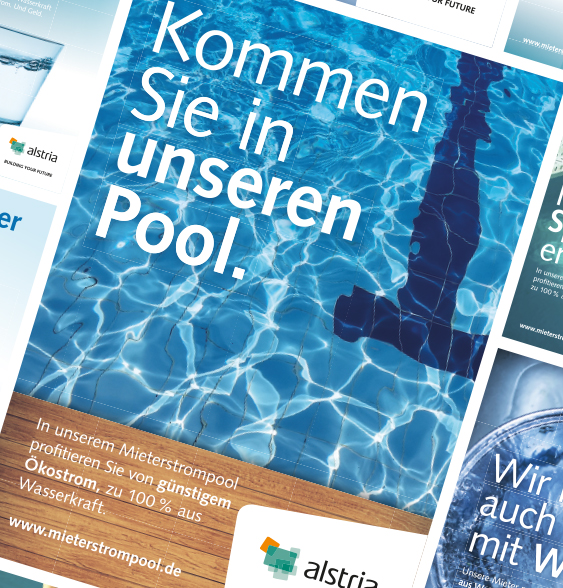 Our long-term vision is that sustainability becomes everyone's daily job routine to achieve all our self-imposed goals. For this reason, the alstria CSR Committee at the Supervisory-Board level meets twice a year to monitor the strategic direction of our sustainability practices. Furthermore, the Code of Conduct communicates our values to the public and protects the rights of our employees and service providers.