We generate sustainable surpluses based on our proactive building management, first-class tenant structure and high balance sheet quality. Our shareholders benefit from this. Since the company was founded, alstria has distributed very attractive dividends to its shareholders every year.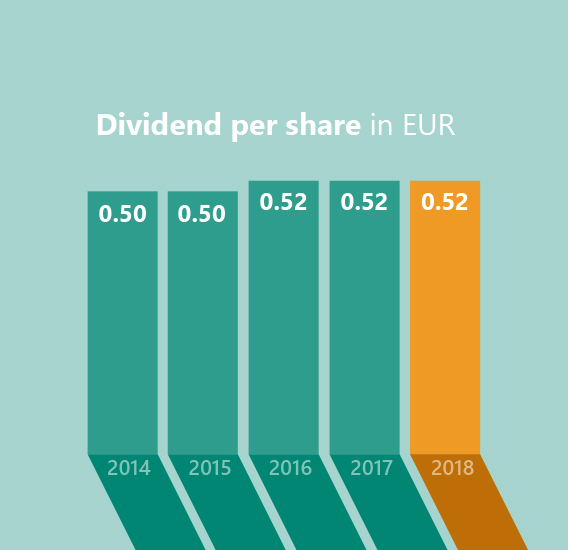 alstria is currently being observed by 19 analysts who publish their reviews on a regular basis.
Bank

Baader Bank

Bankhaus Lampe

Barclays

Berenberg Bank

Deutsche Bank

Goldman Sachs

HSBC

Hauck & Aufhäuser

Jeffries

JPMorgan

Kempen

Kepler Cheuvreux

Metzler Equities

Morgan Stanley

NordLB

Oddo BHF

Solventis

UBS

Warburg Research
On November 04, 2015, Standard & Poor´s Rating Services published a Long-term Issuer Rating for alstria office REIT-AG for the first time.
Rating result: BBB (Outlook: positive)
This website contains information and documents that are provided for information purposes only. The prospectus, the terms and conditions of the bonds and the further documents and information set out on the following website do not constitute or form part of an offer or an invitation to subscribe, to sell or purchase, or the solicitation of an offer to sell or purchase, securities. The bonds have not been and will not be registered under the United States Securities Act of 1933, as amended (the "Securities Act"). The bonds may not be offered, sold or otherwise transferred, directly or indirectly, to United States Persons or in any jurisdiction in which offers, sales or other transfers of the bonds would be prohibited by applicable law (including in or into the United States of America, Italy, Canada and Japan) absent registration or an exemption from registration under the Securities Act or respective securities laws.
Bond 2020
Bond 2019
Bond 2017
Bond 2016
Bond 2015
Cancellation of the Annual General Meeting convened for April 23, 2020
Hamburg, March 16, 2020
Today, the management board of alstria office REIT-AG decided not to hold the Annual General Meeting of the Company on April 23, 2020 as planned, but to postpone it to a later date in 2020. This will inevitably lead to a corresponding postponement of the resolution on the appropriation of profits and the dividend payment.
Depending on the further course of the epidemic situation, alstria aims to hold the Annual General Meeting at a later stage in 2020 and to invite to the Annual General Meeting 2020 again.
This decision was taken in light of the global spread of the corona virus (SARS-CoV-2) and the related general ruling of the Hamburg Health Authorities dated March 15, 2020 to prohibit all public and non-public events (regardless of their number of participants). The health of its shareholders, employees and service providers is alstria's highest priority.
2019
Archive
2018
2017
2016
2015
2014
2013
2012
2011
2010
2009
2008