The combination of a solid, successful business model and a dynamic start-up culture forms the framework of our daily work. In doing so, alstria promotes the individual strengths of each employee and supports personal commitment through flexibility and short decision paths. Trust, enthusiasm for the company's activities, fun at work, tolerance and determination are the lived components of our success. We attach great importance to collegial cooperation at eye level and select new employees according to their qualifications and team spirit.
As a growing company, we are always looking for qualified and motivated employees. Whether as a direct entrant, trainee, intern or working student – become part of our team!
(Job offers only available in German.)
We are particularly proud to have been awarded the Top Company Award 2023. The criteria for the award are corporate culture, career & salary, working environment and diversity. The unique blend of evaluation criteria makes alstria a company with a special "spirit". We call it the "alstria spirit".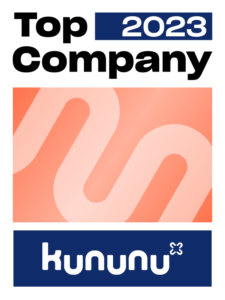 Would you like to write your thesis on exciting practical topics? Here you will find a selection of topics with which we would be happy to support you.
Would you like to get off to a excellent start after completing your studies, get involved in exciting topics in the real estate industry and learn from experienced colleagues? Then alstria is the right place for you! As a trainee, you will spend two years in five divisions in Hamburg. You will take on responsibility for projects and benefit from a holistic view of the company. In addition, we attach great importance to a trusting and long-term cooperation. (Traineeship program only available in German.)